BitRaser® Drive Eraser
Learn How To Wipe Data From PC, Laptop & Server
This guide walks you through simple instructions on how to completely wipe and clean a PC and connected drives by using BitRaser Drive Eraser software in Standalone deployment mode. Instructions in this manual are broken down into 3 stages to get you an easy and practical way of erasing the hard drives with minimal efforts.
Stage 1 (one-time) 5 Minutes

Provides the steps to download the software ISO image file from BitRaser cloud.
Stage 2 (one-time) 5 Minutes

Provides instructions to create a bootable USB for wiping.
Stage 3
Shares steps on how to wipe a PC and connected drives using BitRaser software through bootable USB.
These instructions help you get started with drive erasure in less than 10 minutes to wipe a PC or Laptop clean.
Note: Total wiping time will vary as per type, size of drive & erasure standard chosen.
Stage 2
BitRaser Drive Eraser ISO on USB Drive to Create Bootable Media - [5 Minutes]
Step 1

Visit https://rufus.ie to download Rufus – an open source application widely used for creating bootable USB flash drive.

Step 2

Install Rufus application on your laptop or desktop and then connect a USB drive to the system.

Step 3

Launch Rufus and follow instructions in the below annotated image. Click START to initiate the next steps for bootable USB media creation.
Step 4 Click 'Yes'

on the pop-up message box to proceed further.
Step 5

Click OK on the final pop-up confirmation message to start burning BitRaser Drive Eraser ISO file on USB.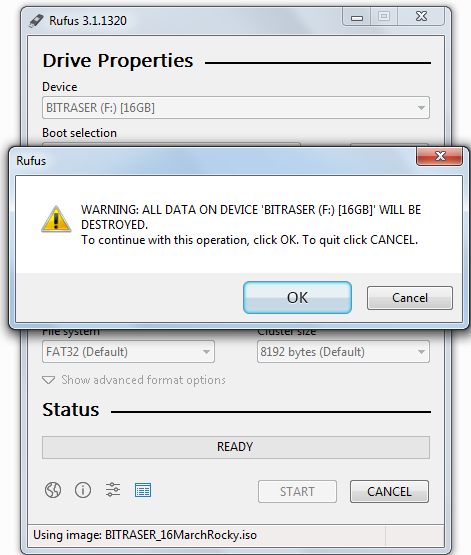 After successful completion of the process, you will create a bootable USB media for wiping your PC clean. Now, proceed to steps listed in Stage 3.
Stage 3
How To Completely Wipe PC & Connected Drives Using BitRaser Tool through Bootable USB - [5 Minutes]
Start wiping your laptop or desktop PC clean along with the connected storage drives, as follows:
Step 1

Connect the bootable USB media to your host machine (laptop or desktop PC). 

Step 2

Power ON the host machine and press Function keys as applicable for your device 'make' and 'model' to enter Boot Menu.

Step 3

Select USB Device option and press Enter.

A screen with BitRaser Dual Boot Menu will appear after the host computer boots successfully.

Step 4

Select BitRaser and press Enter to initialize BitRaser Drive Eraser.

Software Home screen will appear after initialization, listing all the drives - including build-in & USB drives - connected to host machine. The interface will display number of licenses left as '0'.

At this stage, you would need to connect the host machine to Internet and login to BitRaser cloud for acquiring licenses to allow wiping of the PC & drives, as follows:

Step 5

Click Settings icon on top right corner of the Home screen.

Step 4

Click Network tab in Settings window.

For Ethernet, follow these steps:

Select Ethernet radio button.
Choose Automatic (DHCP) in Configuration. All other fields will be auto-populated.
Click Connect.

For Wi-Fi, follow these steps:

Select Wireless radio button.
Select the wireless network in SSID Name dropdown menu.
Enter password of the wireless network & click connect.

Step 7

Next, click BitRaser Server tab in Settings window

Step 8

Enter BitRaser cloud URL, login user name & password. Click Connect.

The software will automatically acquire licenses from your BitRaser cloud account. You would be able to see License Left count at bottom right corner of the screen.

Step 9

Select checkbox for all the drives that you wish to erase.

Step 10

Select Erasure Method from dropdown list at the bottom of screen and Click Erase.

Step 11

A message box will pop-up, asking for final confirmation on initiating the erasure process.

The software will start erasing the selected drive(s), displaying runtime progress.

After the process is completed, the software will generate digitally signed reports for all the erased drives and save them automatically on your BitRaser Cloud account.